Co-Ed by Rachel Van Dyken
Publication Date: April 24th, 2018
Genre: Contemporary Romance
And a revolving door across the college suite I somehow ended up in because my first name is Shawn.
They don't discriminate. Girls. Guys. Grandmas. Plants (okay maybe not plants) all walks of life stroll in stressed to the brim, and leave so satisfied I'm wondering what sort of talents lie behind that door.
My roommate calls them the pleasure ponies.
But the rest of the college campus?
They just call them the new face of Wingmen Inc. A paid for relationship service that makes big promises.
Breakup? They'll glue you back together again.
Depressed? They have the magic pill.
Lonely? Just spend a few minutes while they rub you down and you'll forget all about it.
And broken hearts? Well, that's their specialty. They'll fix you
I swore I wouldn't get involved.
But apparently they like a challenge, and a girl who doesn't put up with their BS is basically like waving a red flag in front of a bull.
But one holds my attention above the rest.
Knox Turner looks like a Viking — and getting pillaged is starting to look more appealing by the day. Though he's hiding something — all of them are. And the closer I get. The more I realize that some things are left better in the past.
You've read reverse harem books before — but you've never read one like this. It's not what you think, or is it? Dive in and find out…
Knox, Leo, Finn, and Slater are waiting, and they aren't patient men.
Welcome to the new face of Wingmen Inc — You're welcome.
Rachel Van Dyken is the New York Times, Wall Street Journal, and USA Today Bestselling author of regency and contemporary romances. When she's not writing you can find her drinking coffee at Starbucks and plotting her next book while watching The Bachelor.
She keeps her home in Idaho with her Husband, adorable son, and two snoring boxers! She loves to hear from readers!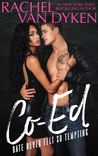 Co-Ed
by
Rachel Van Dyken
My rating:
4 of 5 stars
Co-Ed by Rachel Van Dyken
4.5*
Being a fan of the Wingmen books, I was quite looking forward to Co-Ed, a Wingmen spin-off. Spin-offs and sequels can be a hard act to follow and, speaking for myself, I occasionally feel a little apprehensive about digging in: will it be as good as the previous? Will I like the characters? Do I really want to read a reverse-harem book with college-aged characters? Uhhhh yes. To all of the above.
I actually don't want to say too much about this book at the risk of giving too many details away. But first of all, don't be alarmed that it's a reverse-harem book. Co-Ed certainly has elements of RH but it's not a true RH - it's Van Dyken's spin on it. Second, the characters in this book are just so damn likable! Every single one of the Pleasure Ponies and Slater and Shawn had my enthusiasm for their character and I definitely want HEAs all-round, please and thanks! Overall, this book had so much humor which is something I'm always looking for. However, it also had a serious and yeah, sad aspect to it that I wasn't expecting but welcomed wholeheartedly.
The book essentially covers many different relationship types, be it romantic, friendship, or brotherhood and I loved exploring each and every one of them. This is a great start to what I'm really hoping will be a series because Wingmen cannot stop here!
*arc received in exchange for honest review.
**Reviewed by Melinda for Joandisalovebooks Blog.
View all my reviews